About ABA Connection!
At ABA Connection, we provide ABA interventions services in homes, schools, and the community. Many providers find that in-home and community-based therapy facilitates learning and decreases undesirable behaviors because the ABA services are delivered in an atmosphere the child finds safe, familiar, and non-threatening. Community-based ABA therapy provides a natural environment for children to gain and practice skills. It is a great choice for teaching independent living skills, such as personal hygiene, as well as strengthening social skills with family and close friends.
The founder of Abaconnection.com, Andrea Stayton, was born and raised in Jacksonville, Florida. She obtained a Bachelor of Arts degree from The Florida State University in Psychology with minors in both Information Studies and Applied Behavior Analysis. She then attended Florida Institute of Technology where she received her Master of Science degree in Applied Behavior Analysis with concentrations in Clinical Behavior Analysis and Organizational Behavior Management. Andrea finished in the top of her educational class and was one of the first students to complete FIT's Dual Track Master's program. She became a Board Certified Behavior Analyst in 2007. Throughout her profession, Continuing Education Units were typically derived from attending various conferences both in Florida, throughout the United States, and abroad. However, constantly trying to work full-time and maintain continuous learning became difficult as work loads increased. Mrs. Stayton became an Approved Continuing Education provider in 2010 and launched the ABA Connection CEU website that same year.
The founder of ABA Connection, Joshua Stayton, was born in St. Augustine, Florida. He lived in various states throughout the country where he obtained an education and experience in Emergency Medicine. Joshua returned to St. Augustine in 2009 where he took an employment opportunity with a group home as a Residential Habilitation Coordinator. His tenure there provided him with the ability to serve adults with intellectual disabilities and behavioral challenges. He built on this experience in a variety of job roles including Assistant Director of a Community Outreach Program, Principal of a Charter School, and Crisis Coordinator for an Emergency Department.
Joshua and Andrea met while working with individuals in the St. Johns County, Florida area. Their mutual love for helping others led to a love for each other and they were married in September 2012. They both understood the importance of improving mental health. They established ABA Connection, LLC to provide behavior services to many underserved individuals and convenient, educational opportunities for those who serve those individuals – Behavior Analysts.
So what is ABA Connection? Why are we here? The ultimate goal of ABA Connection, LLC is to enhance the quality of life through Applied Behavior Analysis.
Mission- In response to the growing need for appropriate services for many in need, our office has developed an Applied Behavior Analysis (ABA) Home Program dedicated to providing evidence-based, analytic services to those who need them. It is our belief that the needs of those we serve can be best met through a partnership with their caregivers and other professionals involved in their lives. Our goal is to help caregivers and professionals acquire the necessary analysis and teaching skills in order to facilitate effective intervention and generalization. Enhancing the quality of life of our learners and their supports is the ultimate goal of ABA Connection, LLC. Our team provides a comprehensive 1:1 learning environment directly in the recipient's home with our goals being to establish Competent Learner Skills that will prepare recipients to transition successfully between various environments.
This ABA Connection website was initially developed to assist Analysts in receiving the education needed to remain competent in the field and meet the requirements of the Behavior Analyst Certification Board. Additionally, this site's purpose is to also make research and various educational materials available to those without certification and a desire to learn more about Behavior Analysis. To aid in the spread of behavioral news and events, ABA Connection has created a News Feed for those interested in learning about current behavior analysis events around the world. Be sure to check out our ABA News page! ABA Connection will continue to expand and reach out to those with various learning styles.
-- "Enhancing the Quality of Life through Applied Behavior Analysis" --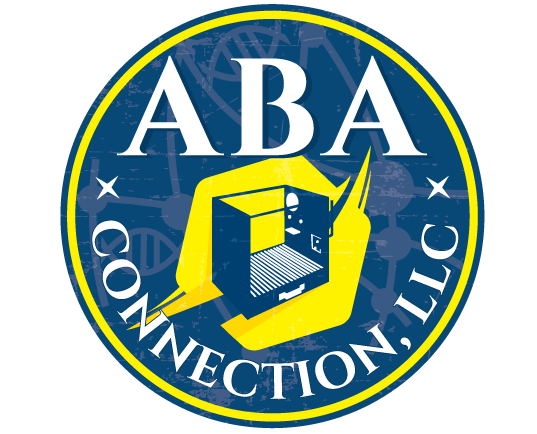 ABA Connection Clinic - Virtual Tour